Contact us

[Previous entry: "She-Hulk #2"] [Main Index] [Next entry: "Shaolin Soccer"]

04/23/2004 Archived Entry: "Comics review: Be A Man"

Be A Man
by Jeffrey Brown
Published by Top Shelf Productions

Reviewed by Tom Good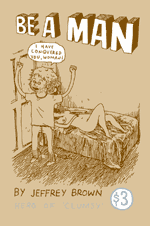 In an introduction to Be A Man the author explains that this comic is a sequel to (and parody of) an earlier work: "A few months ago I realized I was much too sensitive and pathetic in 'Clumsy,' so I wrote 'Be A Man' and fixed myself, creating the 'Clumsy' you all wanted to see." I have not read Clumsy, so this review is based on Be A Man as a stand-alone piece.
Be A Man consists of a series of 29 short black-and-white episodes, almost all of which are six-panel stories that fit on a single page. The art is intentionally crude, simple line drawings. The story features two unnamed characters, a man and his girlfriend, and it dramatizes stereotypically insensitive, macho male behavior. Example scene:
WOMAN: I'm fat.
MAN: Well, then why don't you get off your ass and lose some weight? Or just be comfortable with your body, like I am. [He flexes his nonexistent bicep muscles and pats his flabby abdomen.]
MAN (pointing to a TV show): That chick is HOT.
Though the concept has potential for humor, Be A Man is rarely laugh-out-loud funny. More often, the situations come across as uncomfortable and sad, though still entertaining in a way. In many ways it reminds me of Matt Groening's Life In Hell strip, with the added element of male chauvinism.
Overall, though I found Be A Man only mildly amusing, it did make me curious to read more of Brown's work.
Ontology on the go!
Our webhost, DreamHost is having a huge sale on Code Monster:
15 full domains, 75 subdomains; 2560 MB Disk, 64 GB Transfer; 1 FREE domain registration; 300 Mailboxes, 75 Users; E-Commerce, webmail, announce and discussion lists, Jabber, Audio/Video http streaming, and more stuff like MySQL databases and such I don't even begin to understand or use, but it's nice to know it's there!
It's $15.95/month if you pay 2 years in advance, $19.95/month for one year or monthly and it's usually $39.95, so if you're looking for webhosting, mosey on over to DreamHost. I cannot recommend them enough, they have been very good to me and they are local boys, Claremont/Pomona grad school geeks who made good. What could be better than that?
Updated: May 31, 2004