"It's morning in America, Hackenbush, and you work the nightshift."
Saturday, December 6, 2003
"The next revolution occurred when a figure identified only as '#' declared that Dispersed Flash Mobs, while a step in the right direction, still lacked artistic purity. Unity of both action and intent was not only excessive, but unity of action in fact polluted the unity of intent by being too identifiable, and thus too much of an attention-seeking activity. The next wave of Dispersed Flash Mobs emphasized intent alone: each participant performed a different ordinary-seeming action, in a different location, while keeping some prearranged thought in mind.
"This caused a worldwide sensation. At any given moment, any person one encountered may have been acting on behalf of a Dispersed Flash Mob, but it became impossible to tell one way or the other."
Dispersed Flash Mobs: A History, by Tom Good, J LHLS, Winter 2003
Posted by Ginger Mayerson @ 11:55 AM PST [Link]
"Under the conditions of his release (on bail, I presume), Heckenkamp, 24, is only permitted to use a single 'drone' computer at home to review the electronic evidence in his case, without a modem, and with all the connectors but the mouse, keyboard and power ports covered with police evidence tape. Last summer, a planned visit to his parent's home in Wisconsin was conditioned on his family removing all computers from their house, and allowing court Pre-Trial Services officials to inspect the home for wayward CPUs."
Gee, poor guy. It'd be tough without the Internet.
"Last year, Heckenkamp was jailed at a court appearance after angering a federal judge with a series of baffling legal arguments apparently inspired by failed tax-protester tactics -- including challenging his indictment on the grounds that it spelled his name in all capital letters. He later retained an attorney, and after seven months in stir was released on bail with his pre-trial release restrictions tightened further. His trial date, which has been delayed several times, is currently set for March, 2004."
Heckenkamp Challenges Computer Ban, by Kevin Poulsen, SecurityFocus December 3 2003
Um. Poor, dip-shit guy.
Posted by Ginger Mayerson @ 10:47 AM PST [Link]
"I mean, when I voted for the war, I voted for what I thought was best for the country. Did I expect Howard Dean to go off to the left and say, "I'm against everything"? Sure. Did I expect George Bush to fuck it up as badly as he did? I don't think anybody did."
John Kerry's Desperate Hours, by Will Dana, Rolling Stone, December 2, 2003 (via WTF is it Now?)
Is Kerry still running for President?
120903 Edit: What I meant was that I can't recall a presidental candidate ever using the word "fuck" in public before. But, fuck, things do change and hopefully for the better in 2004. Also, in this context, I thought the way Kerry used the word was perfect.
Posted by Ginger Mayerson @ 10:07 AM PST [Link]
Friday, December 5, 2003
"As Schwarzenegger and legislators met throughout the day, the governor quietly approved a plan to borrow $10.7 billion without voter approval after weeks of saying there was no way to avoid putting the $15 billion deal on the spring ballot."
Legislators continue to debate bond, spending cap proposals, by Tom Chorneau, AP, December 5, 2003
Ahem! Jawohl, that "voter approval" stuff sure sucks sometimes, don't it, Ahnold?
Q: When is debt not a deficit?
A: When your gov is a Repub.
Gov Davis = $38 Billion deficit (trans. $30 Billion debt + $8 Billion deficit aka shortfall)
Gov Schwarzenegger = $8 Billion deficit (trans. $30 Billion debt is not part of deficit allasudden, but don't forget the $10.7 Billion loans we're gonna get [and $4 Billion of that was gonna be the car tax]) + $4 Billion more deficit (trans. repeal of car tax) = $12 Billion deficit. (But, please remember, if he was a Dem, it would be a $42 Billion or $52.7 Billion deficit.)
So, with Davis as gov, we either had an $8 Billion or $38 Billion deficit.
Now, with der Schwarzen as gov, we have either a $12 Billion deficit or a $42 Billion deficit or EVEN NOW OR VERY SOON a $22.7 Billion or $52.7 Billion deficit.
Which is $4 or $14.7 Billion MORE than we had with Governor Davis.
Lemme ask you, California: Are you better off now than you were six weeks ago? And, is it me or are these numbers going THE WRONG DIRECTION?
Posted by Ginger Mayerson @ 10:51 PM PST [Link]
"SACRAMENTO, Calif. -- The state Senate has turned down Gov. Arnold Schwarzenegger's budget package. That leaves little possibility for a last-minute agreement as the clock ticks toward Friday's midnight deadline to put measures on the March ballot.
"Senators vote 34-0 against the governor's plan to cap spending, with even Republicans voting no after the outcome became clear. The governor's bond measure also lost."
Senate Rejects Governor's Budget Plan, AP, TheBakersfieldChannel.com, December 5, 2003
Arnold Schwarzenegger – Bringer of Unity to our State Senate.
Posted by Ginger Mayerson @ 10:29 PM PST [Link]
For future reference.
Posted by Ginger Mayerson @ 10:02 PM PST [Link]
"The discovery of a pair of stretched-out socks with traces of explosives in them has prompted a government warning that al Qaeda might still be planning to use personal items to blow up a plane, the Department of Homeland Security said."
Socks Prompt Warning About Al Qaeda and Planes, AP, December 6, 2003
Good to know.
"A roast turkey presented to US troops in Iraq for Thanksgiving by President George W Bush was reportedly only used for decorative purposes."
Bush's turkey raises questions, BBC, December 5, 2003
Good to know.
Posted by Ginger Mayerson @ 09:38 PM PST [Link]
"When examining the appearance of the nine Democrats who believe they should be president, it becomes apparent that both Wesley Clark, 58, and Howard Dean, 54, have the same hair. They have the same texture of salt-and-pepper locks clipped close to the scalp, brushed smooth and parted on the left. The only distinction between the two is that Dean's sideburns are slightly longer and one could extrapolate that this is a reflection of Dean's positioning as the East Coast liberal and Clark as the spit-polished military man."
Presidential Hair Apparent?, by Robin Givhan, Wasthington Post, November 14, 2003
"The Boston Globe, in detailing Dr. Judith Steinberg Dean's dark hair and 'simple skirt and sweater,' calls her the 'least packaged' of the candidates' wives, which translates to no sense of style. 'I'm not a fashion plate,' she admits.
"Poor Gert Clark doesn't stand a chance. The General's wife's hair would undoubtedly be overshadowed by her husband's shock of white hair and high-voltage smile."
The Politics of Hair, by Jessica Lyon, Alternet, December 5, 2003
Did I miss something? What is this obsession with hair?
There's nothing wrong with Mrs. Clark's hair. It's perfectly nice hair.
And it probably looks that way in a hurricane. Just kidding.
This is not a Mayerson endorsement of ANYTHING.
Posted by Ginger Mayerson @ 09:17 PM PST [Link]
More than you ever wanted to know about kimonos.
You could never get dressed alone.
You'd need staff just to tie the obi.
Posted by Ginger Mayerson @ 07:45 PM PST [Link]
This is not a Mayerson endorsement:
"I know, he's even less of a liberal than Bill Clinton was, but I don't think Dean is a moderate centrist. I think he's a fighting centrist. And folks, I think we have got ourselves a winner here."
Molly Ivins: Picking a winner, Naples Daily News, December 4, 2003
Any Dem will do for me, oh, any Dem at all.
Posted by Ginger Mayerson @ 06:51 PM PST [Link]
Thursday, December 4, 2003
Two teeth prepped for crowns today, so no blogging. Maybe tomorrow. Feel free to read the good folks on the sidebar. But for me for now, more Advil.
Posted by Ginger Mayerson @ 06:02 PM PST [Link]
Wednesday, December 3, 2003
This is not a Mayerson endorsement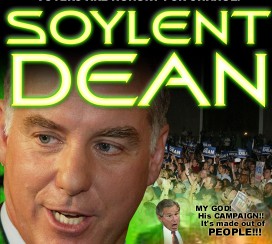 (via boing boing)
but it is way cool.
Posted by Ginger Mayerson @ 01:09 PM PST [Link]
Tuesday, December 2, 2003
"401. (Pronounced Leh-Nerd Skin-Nerd), Lynyrd Skynyrd"
500 Greatest Albums of All Time, Rolling Stone, December 2, 2003
Except to wonder how else to pronounce Lynyrd Skynyrd and make me want another copy of Exile on Main Street for three seconds, this list had no impact on me whatsoever. I blog it here as an artifact of our times.
Posted by Ginger Mayerson @ 10:44 PM PST [Link]
"Ralph Nader, the single individual on the entire planet who could have saved us from the presidency of George W. Bush simply by asking his supporters on election night to do the prudent thing, appears ready to do it again.
"This website has been formed the Nader 2004 Presidential Exploratory Committee, which means Ralph is, at a minimum, flirting with ensuring Bush's re-election. What was it Scotty used to tell Kirk vis-à-vis the Klingons? 'Fool me once, shame on you. Fool me twice, shame on me.'"
RALPH NADER AND THE ABYSS, Altercation, December 2, 2003
You know, I have a lot of respect for Eric Alterman, but I have to draw the line on this one.
Scotty said that to Sulu and Chekov (Thanks, Ellen.). Kirk wasn't even on board when he said it. Sheesh.
The rest of the post is the usual first-class stuff. Carry on, Eric.
Posted by Ginger Mayerson @ 05:13 PM PST [Link]
How many of you consider a toilet a basic human right? Yes, thank you, you can all put your hands down now, thank you.
Apparently, demanding that a toilet be available within a quarter mile of where you labor in the fields is too much decency to ask.
Thank God for Nathan Newman. If there were ten more like him, we might actually generate decent society for everyone.
Posted by Ginger Mayerson @ 05:12 PM PST [Link]
"Last year, food stamps injected more than $1.7 billion from the federal government into the state's economy even though California is the worst state in the nation when it comes to enrolling people in the program. Fewer than half of Californians who qualify for food stamps receive them because of harsh restrictions most other states don't have, such as disqualifying most families with cars.
"Advocates fighting to connect needy families with the means to get food (70 percent of eligible households are the working poor and 66 percent of recipients are children) say that if all eligible families were enrolled, nearly $1 billion more in federal funds would flow into the state. This doesn't just help needy people, they point out. The money spent also benefits the grocery industry and the economy at large.
"So why has Schwarzenegger proposed spending cuts targeting food stamps, long the nation's No. 1 defense against hunger? The cost to the state to enroll more families would be 'modest,' according to the state Department of Social Services.
"'Frankly, we're a little perplexed,' said Sharon Eghigian, California Association of Food Banks executive director. 'Even if you just look at it fiscally, it really makes no sense.'
"Eghigian said her association plans to rally the forces to call and write the governor as well as state legislators, who must sign off on any proposed cuts.
"I tried to get the governor to explain his thinking, but I couldn't reach anyone since this bright news was announced the day before Thanksgiving. On a side note, the after-hours message at the guv's main number, (916) 445-2841, still said, 'Thank you for calling the office of Governor Gray Davis,' although Schwarzenegger took office two weeks ago Monday. Strange. I would have thought all things Gray Davis were banished by now."
Diana Griego Erwin: A wealthy governor wields a budget ax that could hurt the hungry, SacBee, November 30, 2003
California Association of Food Banks
P.O. Box 191028
Sacramento, CA 95819
(916) 456-2232
(916) 456-8214 fax
Y'know, it's a scandal that we even need food banks, but it's a sin to try to take them away.
Posted by Ginger Mayerson @ 05:11 PM PST [Link]
Monday, December 1, 2003
"The possibility of an impending large-scale release from Guantánamo — which currently houses about 660 prisoners, most of whom were captured during and after the Afghan war — was first reported by Time Magazine. Time quoted American officials as saying that some of the detainees being considered for release had been captured by Afghan warlords and sold for the bounty offered by Washington for Al Qaeda and Taliban fighters."
*snip*
"The United States has declined to give the detainees access to lawyers, and it has not charged any of them with crimes. Officials have said the detainees were not entitled to formal prisoner-of-war status, which would carry such rights, because they were 'illegal combatants.' The officials have said that when the men were captured they were not adhering to some requirements of the Geneva conventionss, like wearing clearly marked uniforms.
"Those arguments by the United States have not proved persuasive with its allies."
U.S. in Talks to Return Scores Held at Base, by Neil A. Lewis, NY Times, December 1, 2003
"In addition, Defense Secretary Donald Rumsfeld claims the Geneva conventionss' requirements for fair treatment of prisoners of war don't apply to enemy combatants held at a U.S. military base in Guantanamo Bay, Cuba. Several retired military lawyers and former federal judges, however, have filed a brief disputing that. They say the Geneva conventionss require a "competent tribunal" to review denial of prisoner of war status to a captive.
"Now, the U.S. Supreme Court has agreed to rule on whether prisoners held at Guantanamo Bay should have access to federal courts to challenge their detention. The United States is holding more than 660 prisoners from 42 countries."
All prisoners have rights, whether U.S. likes it or not, Atlanta Journal-Constitution, November 23, 2003
"Cuban sovereignty over Guantanamo exists only in the abstract. Yet it is, for the U.S. government, a convenient legal fiction. In the current litigation over the fate of the hundreds of detainees held on Guantanamo, the government's position is premised on the fact that Guantanamo is technically foreign soil. Because Guantanamo is part of Cuba, argues the government, it is beyond the reach of American courts.
"What is most dismaying about these formalistic discussions of Guantanamo's legal status is not simply that they disregard the practical reality of U.S. control over the territory. They also, quite mistakenly, ignore the U.S. government's deliberate decision to place the detainees there."
A Guantanamo-Size Hole in the Constitution, by Joanne Mariner, FindLaw, December 1, 2003
Finally some progress. Thank God and all good people.
Posted by Ginger Mayerson @ 09:44 PM PST [Link]
"Indeed, the Medicare bill is a study in ideological contradictions, public policy time-bombs and negative consequences that are anything but unintended. It allots a whopping 30 percent more of your money on privately covered seniors than otherwise would be spent through Medicare. To pay for massive HMO subsidies, the bill robs many of the elderly poor of Medicaid's 'wrap-around' protection. While it covers less than one-fourth of the elderly's prescription costs (according to the Center on Budget and Policy Priorities), the bill lavishes mountains of cash on already profit-gorged and politically sheltered drug companies by barring Medicare from the free-market practice of negotiating volume buys. And in permitting private health-plan 'cherry picking,' the bill leaves Medicare with the sickest population and its recipients with skyrocketing premiums.
"You can almost hear the kaboom.
"The deathblow will come when Medicare is in shambles and the federal deficit too bloated to do anything about it. (Say, what a coincidence that will be.) It'll be closed-for-business time, as well as time for crocodile conservative tears over 'socialized medicine' having always been doomed to fail."
Springtime for Pfizer, by P.M. Carpenter, BuzzFlash, December 1, 2003
And that will be just about when my generation of artists who work in offices, who spent their whole lives working whatever jobs we can get and never really putting very much money away because whatever jobs we can get don't pay very well will need Medicare. When you hear it, that roaring sound will not be thunder. Oh, and with us will be everybody who did put money away in 401Ks and mutual funds; people who knew how to save, but got cheated, and they'll be roaring, too.
This is to be avoided at all costs: Vote Democrat in 2004 and forever more.
Posted by Ginger Mayerson @ 07:37 PM PST [Link]
"But don't peaceniks get arrested a lot? A few of them do -- the American Civil Liberties Union is now investigating over 300 cases of peace protesters who were arrested unfairly and/or violently during the lead-up to the war in Iraq, using videotape of the arrests -- a tactic that the FBI memo outlining the new crackdown describes as 'intimidation' against the police."
Giving thanks for freedom, by Molly Ivins, WorkingForChange.com, November 30, 2003 (via Sisyphus Shrugged)
Oh, I think swingin' nightsticks are much more intimidating than a video camera. But I'm funny that way.
Posted by Ginger Mayerson @ 05:36 PM PST [Link]
Sunday, November 30, 2003
"Of the 13 southern states, only 2 send more federal tax dollars to Washington than the federal government spends within those states (Texas gets 96¢ and Georgia gets 99¢ for every tax dollar sent to Washington). Every other southern state receives an economic benefit for sending their tax dollars to Washington. For example, Oklahoma gets $1.46 back, Alabama gets $1.54 back and Mississippi trails only New Mexico and North Dakota for return on its federal tax dollar getting $1.78 back for every dollar sent to Washington.
"By following the political rhetoric of anti-government, social conservative Republicans, modest-income white Southerners may be putting their opposition to groups that don't fit narrowly defined 'family values' paradigms, such as gays, liberals and racial minorities, ahead of their economic interests. That was the point that former Vermont Gov. Howard Dean tried to make recently with his clumsy reference to the need for Democrats to appeal to white voters with Confederate flag decals on their pick-up trucks."
Do Democrats Need the South?, by Sam Parry, Consortium News, December 1, 2003
Not if we can win without them. We can come back for them later.
However, I disagree with this:
"The emergence of the solid Democratic South followed the end of Reconstruction when Republicans used the post-Civil War period to help African-Americans emerge from slavery and secure their political rights."
As far as I know, Reconstruction was mainly used to loot what was left of the South. The Republicans did very little to support the newly emancipated African-Americans, which is partly why the descendents of those former slaves were not completely emancipated until the Civil Rights Act, a hundred years later. And what about those 40 acres and a mule?
Posted by Ginger Mayerson @ 10:32 PM PST [Link]
Open Thread for Book and Magazine Reviews, please click on Comments to leave your reviews, thanks.
Posted by Ginger Mayerson @ 03:06 PM PST [Link]